El Guano Restaurant has an exquisite menu, with dishes cared for in detail. Different, tasty suggestions and a very careful presentation, which will last in your mind and will enliven a fantastic memory of your stay at the restaurant.
Alone or accompanied, do not miss the opportunity to enjoy a gastronomic day at the Bodega El Guano Restaurant. Just book and let yourself be carried away by the aroma and flavor of their creations.
Galician Blonde Beef Loins 🥩
Extracted from the loins of older Galician blond breed cows. Fed little by little over time, with natural grass, these loins have been matured to an optimum point of texture and flavor.
Artichoke Hearts, Prawns and White Garlic Gazpacho
These artichoke hearts from with D.O. Benicarló, they are confit in olive oil and accompanied by some prawns. The dish is given a hit of the oven, and is finished with a cold white garlic gazpacho.
Red Tuna Tataki with Natural Asparagus, Caramelized Onion and Soy and Pistachio Emulsion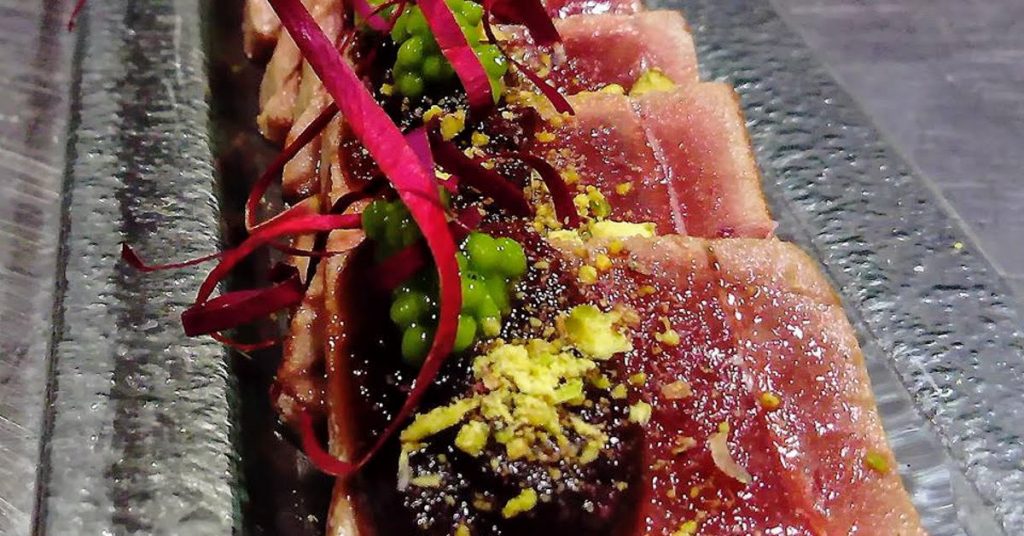 This tataki is made with a high quality bluefin tuna with which El Guano Restaurant has obtained as a supplier. Very little sealed on both sides and filleted, it is presented with a base of natural white asparagus and caramelised onion and soy with pistachio emulsion.
White Prawn Carpaccio on a bed of Artichoke Cream
This delicate white prawn carpaccio is served on a succulent bed of artichoke cream. To finish the dish, chives and coriander oils are added, and it is garnished with salmon roe and lump.
An incredible selection of dishes for you
The Menu
926710126